Steam gift cards are one of the major players in the gift card ecosystem. Steam as a company is one of the largest video gaming platforms in the world today. Their platform makes it easy for players to access multiple games, buy games, and collaborate between players. Steam games involve getting access to different in-game purchases and the payment for these purchases can be easily done with Steam gift Card. The Steam gift cards are available in physical Steam cards and digital Steam cards. This affords players to make selection based off a few criteria. The physical steam card is available in different denominations which include $30, $50, and $100. The digital steam card is available in different denominations which include $5, $10, $50, and $100. Every Steam gift card requires activation. This activation is how the funds on the gift card is added to your Steam wallet. A Steam wallet is a wallet system that Steam operates on and all purchases are deducted from the player's Steam wallet.
WHERE TO PURCHASE A STEAM GIFT CARD?
You can purchase a steam gift card from retail stores which sell gift cards. The likes of Best Buy, Walmart Target and CVS are well known to be retail stores that sell Steam Gift cards. You can buy the digital cards online from steam's official website and the cards would be delivered to the email address attached to your order.
HOW TO CHECK YOUR STEAM GIFT CARD BALANCE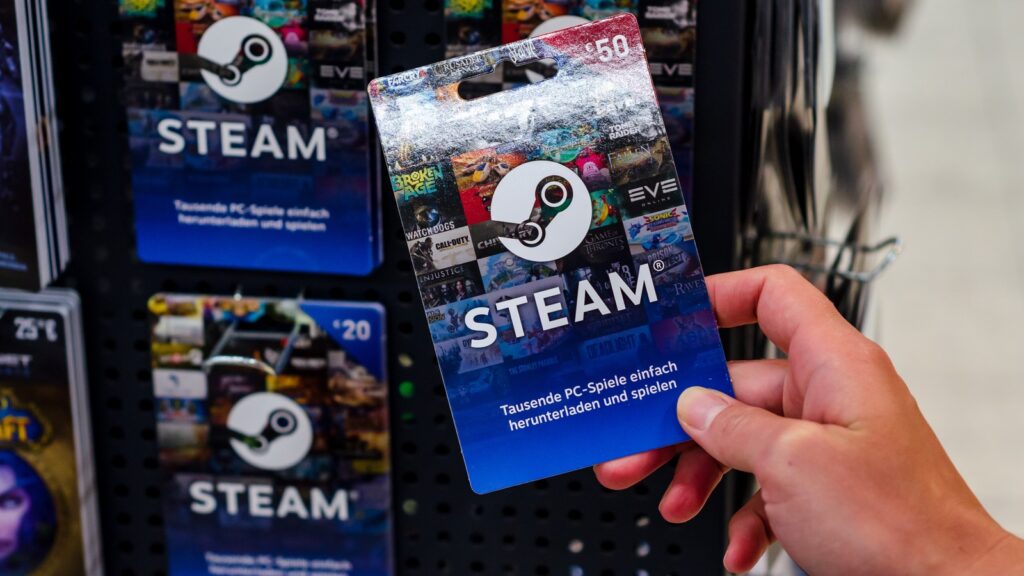 Most times when a player needs to make an in-game purchase, they want to be sure that they can afford and hence the need to check the balance.
The Steam Website
· Visit https://store.steampowered.com/ and login to your account
· At the top right-hand corner of your screen, click on "Profile"
· Select Payment Methods
· Click on Manage Steam Wallets
· Your balance will be displayed
The Steam Mobile Application
· Open the Steam mobile application on your mobile device
· Ensure that you are logged in
· At the top left-hand corner of your screen, click on the Menu icon
· Proceed to click on Account details
· Proceed to click on Gift Card Balance
It is pretty easy to check your gift card balance through the various methods highlighted above. If you need a reliable and secure platform to convert your gift card to cash after checking your balance, TACIT EXCHANGE is a leading platform in trading gift cards and you are getting the best rates and instant payment.
HOW TO TRADE YOUR STEAM GIFT CARD ON TACIT EXCHANGE
Tacit Exchange has made it very easy and seamless to trade your Steam gift card through their platform and receive cash in your local bank account swiftly. The processes involved in completing this transaction are:
· Create an account on tacit exchange web application i.e. http://www.tacitexchange.com. You only need to input your basic details which include your name, your email address, your phone number and a password to protect your account details and credentials.
· Activate your account by confirmation through the link sent to your email address which you have registered with
· You proceed to login with your details and be directed to your dashboard specially curated to suit your user experience both on desktop and mobile devices.
· Add your local bank account details and ensure that it is correct before confirming it. This is where your cash will be sent to. Ensure that there is no error in your account details
· Proceed to initiate a trade by clicking on the "Trade Cards" button. This is where you select which card you intend to trade and for this specific scenario, you are going to be selecting Steam.
· Add the amount of your gift card and the necessary details requested to confirm and validate the authenticity of your gift cards.
· Your gift card is successfully confirmed and your payment is processed within few minutes
· You will receive your cash in your local bank which you have added shortly
Tacit Exchange is fast and reliable. Payments are instant, we operate a 24/7 customer service outlet and your details are safe and secure in our care. We also pose the leading trade rates in West Africa